A Botanic Garden Like No Other
Discover the beauty of native plants in a naturally dramatic landscape
We're delighted to announce that Garden in the Woods opened to the public on June 1. For your safety, and to comply with state mandates, admission is limited and by advance ticket purchase only.
Click here to purchase Garden admission tickets for the month of June. July tickets will be available soon, followed by the rest of the season when details about later phases of the Massachusetts reopening plan are available.

In a garden visitors often describe as magical, you'll find beauty that changes with the seasons, a variety of habitats, and a plant collection that showcases New England native plants with complementary specimens from across the country. Garden in the Woods lies just west of Boston, on 45 acres sculpted by retreating glaciers into eskers, steep-sided valleys, and a kettle pond. A shaded brook and wetlands draw a panoply of animals and insects. Light filters through canopy trees onto spring flowers in the newly revived Curtis Woodland Garden, the gateway to a series of habitat displays that pay tribute to the larger New England landscape. Here you'll find inspiration for your own garden and a new appreciation for the varied plant life of our region.

Location
180 Hemenway Road
Framingham, MA 01701
T 508.877.7630
F 508.877.3658

Get directions from your location via Google maps.
Check our local weather.
Hours
From June 1 through October 15, daily, 10 a.m. to 5 p.m. Last admission at 4 p.m.
Admission
$14 Adults (18-64)

$10 Seniors (65+)/Students with ID

$6 Youth (5-17)
Free for children under 5
Active servicemen and women and their spouses admitted free with valid military ID Veterans receive 50 percent discount with proof of service. 
Our members at the Individual with Garden Access level and higher admitted free

Not a member yet? Join now. 
Looking for Nasami Farm, in western Massachusetts? Click here.
Glimpses of the Garden
Here, Director of Horticulture Uli Lorimer shares images of some of his favorite spring plants. We will update these weekly.
As we prepare to welcome the public back to Garden in the Woods, here are a few scenes of what awaits. Purple woodland phlox adorns the slopes of the Curtis Woodland garden, Athyrium felix femina 'Lady in Red' erupts from the ground with fiery red stems, our Pennsylvania sedge lawn dotted with Camassia, and Cypripedium parviflorum var. parviflorum, the small, yellow-flowered lady's-slipper, with shoes fine enough to take Cinderella to the ball. So many more treasures remain for you to discover.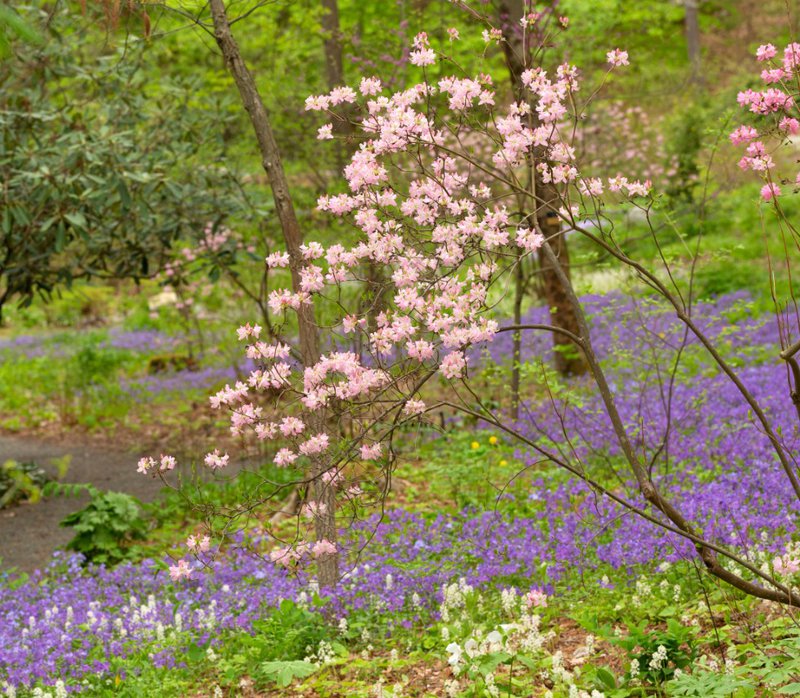 Trillium Week Retrospective - May 4–9
Some of the delights of the Garden's collection, normally celebrated in week of public festivities
Monday, May 4
If trilliums were on Yelp, Trillium erectum would receive mixed reviews, despite being handsome and unusual. Instantly recognizable and easy to cultivate, red trillium has an evolutionary secret that some find unappealing. Its aroma was described by 19th-century garden writer Neltje Blanchan as "unattractive, carrion scented and resembling the color and odor of raw beefsteak of uncertain age." If your preferred pollinators were green flesh flies and carrion beetle, you too would do your best to pump out foul odors. The color of the bloom is another hint at pollination strategy, meat-like and flesh-colored. Stinking Benjamin is one of its delightful common names, "benjamin" being a corruption of the word bezoin or benjoin, a substance obtained from Sumatran plants to make perfumes and incense. Perhaps best admired from a distance. 
Trillium erectum blossom, ©Uli Lorimer
Trillium erectum flower, ©Uli Lorimer
Trillium erectum with Dicentra canadensis, Uli Lorimer ©Native Plant Trust
Trillium erectum with large foliage, ©Uli Lorimer
Trillium erectum in bloom II, ©Uli Lorimer

Tuesday, May 5

The large-flowered white wakerobin (Trillium grandiflorum) is iconic in Ontario, where its stylized likeness appears on the Franco Ontarian Flag. It was adopted as the official flower shortly after World War II as an appropriate symbol to be planted on the graves of Canadian servicemen overseas, a small piece of their homeland to watch over them in rest. The cultural connections with this plant run deep: Native Americans consider it sacred. The common name wakerobin is a nod to the return of robins after winter. And of course, many see innocence and purity in the stark white petals. Whatever ties you to this plant, it is a personal bond and a fleeting moment to savor as spring unfolds. —Director of Horticulture Uli Lorimer

Photo: Trillium grandiflorum floral detail, Uli Lorimer ©Native Plant Trust
Wednesday, May 6

Many wildflower enthusiasts consider painted trillium (Trillium undulatum) to be the finest looking trillium of all. Perhaps its elusiveness or difficulty in cultivation causes it to be prized above others. Cool climates and soils seem a prerequisite for this trillium along with a mycorrhizal association challenging to reproduce in a garden. Discovering this trillium along a hike is easily the highlight of the day, the only momentos taken should be a photograph and a wry smile at having seen this beauty. 

Photos:
Trillium undulatum © Uli Lorimer
Trillium undulatum in bloom © Uli Lorimer
Thursday, May 7
I have always loved yellow toadshade—for its sweet fragrance, it's lovely mottled foliage, and the delightful idea that toads seek shelter from the sun under its leaves. The last part is a bit of a fantasy, but toadshade is one of many common names for trilliums in general, so perhaps there is something to it. This a well-behaved perennial for woodland gardens with rich soils and a calcareous (high pH) substrate. As with all trilliums, be sure that the nurseries you source these from do not harvest plants from the wild. They are slow growers in cultivation, but over time, your patience will be rewarded every spring. 

Photos:
Trillium luteum inflorescence, Uli Lorimer © Native Plant Trust 
Trillium luteum floral detail, © Uli Lorimer
Trillium luteum, Uli Lorimer © Native Plant Trust

Friday, May 8
Oh Sweet Betsy, I wish I had known thee—for to be honored with such a captivating flower, you must have been an angel. The fragrance of the blossom is a rich strawberry with a hint of clove and the mottled foliage exquisitely patterned. Trillium cuneatum, a member of the sessile group of trilliums, is often confused with other red/maroon-flowering sessile trilliums. The key characteristic, aside from the aroma, is the wedge-shaped (cuneate) base of the petal. The clump blooming at Garden in the Woods is at least decades old and simply stunning. —Director of Horticulture Uli Lorimer

Photos:

Trillium cuneatum floral detail, Uli Lorimer © Native Plant Trust
Trillium cuneatum inflorescences, Uli Lorimer © Native Plant Trust
Trillium cuneatum, mature clump, Uli Lorimer © Native Plant Trust

Trillium cuneatum leaf detail, © Uli Lorimer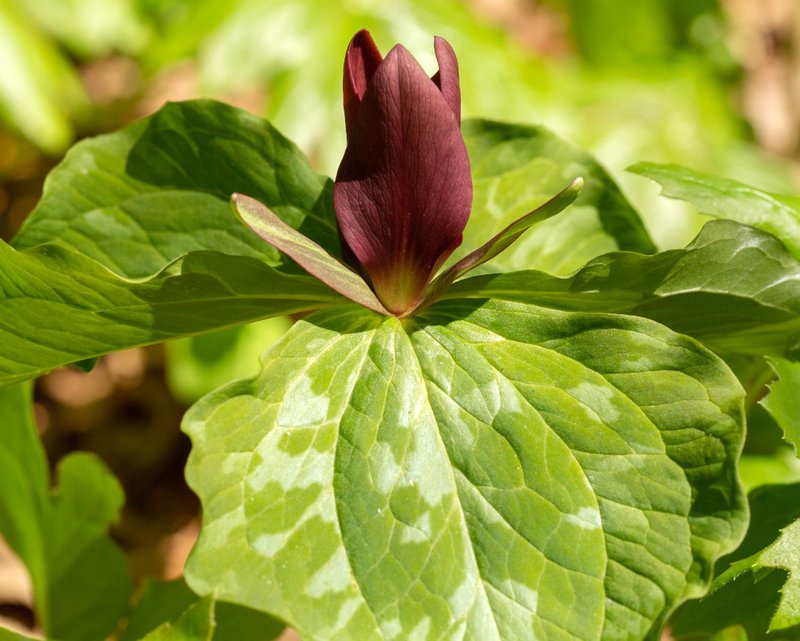 Saturday, May 9
Trilliums are broadly divided into two groups, those whose flowers sit on a pedicel, a short stalk, and those whose blooms sit directly atop the foliage (sessile). The delicate sessile trillium (Trillium sessile), an individual species that takes the name of the larger category, grows with a marked grace and charm. Not to be overshadowed by its showier or larger-flowered kin, it sports subtly mottled leaves, in contrast to those of Trillium cuneatum, which act as a skirt for the small red/maroon petals. Nature always amazes. 
Photos:
Trillium sessile floral detail, Uli Lorimer © Native Plant Trust
Trillium sessile in bloom, Uli Lorimer © Native Plant Trust
The Trillium Family - A 9-minute Lecture
Listen to this fascinating illustrated talk by Director of Conservation Michael Piantedosi
The Intricate Rites of Spring Ephemerals
Early spring plants and ants spawn a life-giving web that extends to butterflies and bears 
Spring ephemeral wildflowers rise from the moist floor of New England's mixed deciduous forests before the trees leaf out: trilliums, bloodroot, columbine, Dutchman's breeches, some early violet species, and many more familiar woodland wildflowers. By the time the canopy fills in weeks later, the ephemerals have flowered and produced seed in an accelerated life cycle that fuels many other emerging species, beginning with ants. 
On the seeds of ephemerals are nutritious, fleshy attachments called elaiosomes, which certain ants find delicious, particularly common woodland ants in the genera Aphaenogaster, Tapinoma, and Formica.  Elaiosomes provide critical carbohydrates, fats, and proteins that enable ants to ramp up their colony activity in the spring. The ants carry the seeds back to their nests before consuming the elaiosomes, and voilà—a new plant colony takes root in rich, ant-produced soils. (Ants create significant amounts of soil as they build their nests.) This mutual relationship is called myrmecochory.
As some of our earliest-flowering plants, spring ephemerals provide nectar and pollen to some of the earliest emerging insects, such as flies and solitary bees. These insects in turn become food for returning migrating birds that are establishing breeding territories and nests. Ants, in turn, are food for small and large foraging animals. Bears emerging from hibernation, for example, visit ant nests for some of their first spring meals.
Ants also engage in many intricate ecological relationships with other insects, which benefit plants. For example, Lycaenid butterflies, including the endangered Karner blue, benefit from ant protection. Ants tend the butterfly caterpillars, which secrete a substance rich in sugars and amino acids. To safeguard this delicious food, ants fiercely fend off predators of these caterpillars. Karner blue caterpillars feed on wild blue lupine (Lupinus perennis), but as mature butterflies, they pollinate more than 100 species of plants. So, many other plants benefit from these butterflies, and, by extension, from their protectors, the ants.
Ant photo: Ants with elaiosomes on seed, ©Alex Wild